Hillside Residence | Bend, OR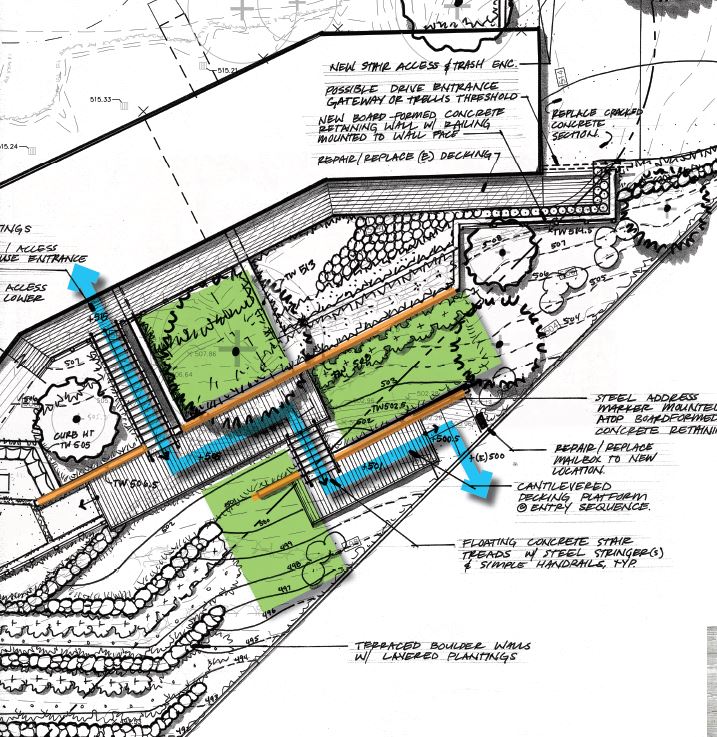 SZABO Landscape Architecture (SLA) was commissioned to reinvent the sloped landscape of this Bend hillside residence and blend the client's mod interior stylings with existing architectural cues.
The predominant design goal was focused on providing an improved and intuitive visitor entrance experience. This proved challenging due to the front door being located in the middle of what is seemingly the side of the house and the 15' grade differential from the street to the home's finish floor. The existing route included a patchwork of heavy handed wood stairs and a neglected rail-road tie path through a tattered landscape.
SLA provided a conceptual design which greets the guest at the street level with a modest landing framed by the home's address. Through a sequence of hardwood decks and a single-stringer precast concrete stairs system, the visitor is guided through a series of tiered garden spaces terminating at the home's front door.
The terraced decks and stairs float over the landscape and mimic the existing cantilevered decking that surrounds the house. These deck areas also serve as momentary view points before continuing to the next flight of stairs.
Bold linear site walls provide leveled terraces and create several useable outdoor rooms including an intimate patio space with built-in lounge seating around a gas fire-pit. These board formed walls, contrasting with the floating decks create a form of sculptural art within the landscape.